Once you've been here

You'll be hooked on our


beachfront restaurant.
Beachcam Coming Soon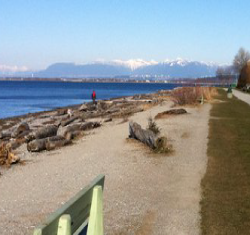 See what's going on right now at the beach
great food / great view / local hangout
Ever since Hooked Fish Bar opened its doors in the summer of 2011, it has been a destination for Crescent Beach locals and visitors alike. Our wrap-around deck boasts unobstructed views of the ocean and the Gulf Islands. It is a lively spot for bird watching, especially in the springtime when catching sight of young eagles at play is a regular occurrence.
We're open all year round
Fully licenced beachfront restaurant
Choose to dine in or take out
The diverse, seaside-inspired menu is renowned for its fish & chips, fish tacos, and 'chowdah.' Gaining popularity fast is another menu staple: the dry-aged sirloin butcher burger. Dine in or Take out. The take out window has been a hit with alfresco-minded people strolling along the boardwalk and with those wanting to pick-up for dining at home. In house, take advantage of a beer selection well-balanced in local and international options. Share sporting events with friends with access to large television viewing.
To view our current menu offerings, click on the link below.
Daily Specials
Monday Mussels

Mussels - $12.95

Taco Tuesday

Fish Tacos - $11.95

Margarita Wednesday

Margaritas - $5.95

Daiquiri Thursday

Strawberry, Mango, Peach - $5.95

Fish Fry Friday

Fish Fry - $12.95

Oyster Saturday

Market Price

Caesar Sunday

Caesars - $5.95
Hooked Fish Bar is open all year round from 11am - close. The reservation policy is casual: bookings are only required for groups of 10 or more. Free parking is located behind the restaurant and a broad walkway provides easy access to the door. And by the way, Hooked's sister restaurant, owned and operated by the same people, is located in Crescent Beach, too. Come down to the Seahorse Grill for an unforgettable experience in an intimate bistro setting. We look forward to seeing you!